Search



Home


Surname


First Name
Popular Products



Coat of Arms


Clan Badges


Books & Gifts


Celtic Jewelry


Black Shirts


CD Music


Download

Design Gallery



Irish


Flags


Celtic


Tartans


Scottish


Claddagh


Surnames


Highlander


Celtic Radio
Research



History


Country


Families

All of our products can be order in bulk for family reunions and get-togethers. Depending on the number of items ordered, we can offer bulk orders at reduced prices for incredible savings from individual items. We also offer embroidered Clan Badge and Coat of arms patches in bulk orders for all of your family and clan festivals.
Don't see your Clan Badge or Family Coat of Arms or do you have a special customized order? Please
contact
us with your special order details and we will be happy to setup a free quote.

Our Heraldry Database has thousands of Family histories to search. Visit Now!

MacKintosh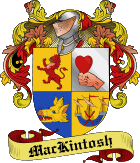 Coat of Arms

---

A

ccording to the Mackintosh MS histories the first of which was compiled about 1500, the progenitor of the family was Shaw or Seach, a son of Macduff, Earl of Fife, who, for his assistance in quelling a rebellion among the inhabitants of Moray, was presented by King Malcolm IV with the lands of Petty and Breachly and the forestry of Strathearn, being made also constable of the castle of Inverness. .....
Heraldry Database: Halton
Halton


Heraldry Database

Surname: Halton
Branch: Halton
Origins: British
More Info: England


Background: Halton \ha(l)-ton\ as a male's name is of Old English origin, and the meaning of Halton is "estate on the hill". This branch is from Lancashire, England with traced roots in Preston with links to: Leyland, Wesham, Kirkham, Horwich, Bolton, Bury, Chorley, Manchester, Australia, USA & South Africa.



Motto:
Industria Navem Implet, Industry fills the ships.
Arms:
Ar. a lion, rampant, double queued gu.
Crest:
Out of a ducal coronet or, a stag's head ar. betw. two rose-branches ppr.
View the Heraldry Dictionary for help.

T
his interesting surname is of Anglo-Saxon origin, and is a locational surname, from various places so called throughout England, such as those in Berkshire, Lincolnshire, Lancashire and the West Riding of Yorkshire, to name but a few, there being at least eleven Haltons in England. Perhaps surprisingly the different villages of Halton have several alternative origin translations; the usual meaning is "hall farm", the farm (tun) belonging to the manor house (halh), but other variants include "valley farm" (originally "haugh-tun"), and "rocky farm" (hol-tun), these being from Lancashire and Lincolnshire respectively. The placename and the surname first appears in Norman times, the surname development includes: Richard de Halton (Lincolnshire, 1270); Henry Halton, witness, at the London Assizes in 1470; whilst John de Halton, Bishop of Carlisle circa 1305, excommunicated Robert the Bruce. Notable namebearers listed in the "Dictionary of National Biography" are Immanuel Halton (1628 - 1699), whose observation of a solar eclipse was reported to the Royal Society in 1675, and Timothy Halton, provost of Queen's College, Oxford, 1677 - 1704; he was vice-chancellor of Oxford from 1679 - 1681. The first recorded spelling of the family name is shown to be that of Algar de Haltona, which was dated 1086, in the Domesday Book, during the reign of King William 1, known as "The Conqueror", 1066 - 1087.
Name Variations: Halten, Hallton, Halton.
References:
One or more of the following publications has been referenced for this article.
The General Armory; Sir Bernard Burke - 1842.

A Handbook of Mottoes; C.N. Elvin - 1860.

English Surnames; C.M. Matthews - 1966.

A Dictionary of English Surnames; P.H. Reaney - 1958.

Surname Database: http://www.surnamedb.com/Surname/Halton



| | |
| --- | --- |
| Discuss | Search |


Sign-up for a Founders account and receive personalized
family heraldry service and much more!


Want to know more?
Click the Heart!

Heraldry Database