Search



Home


Surname


First Name
Popular Products



Coat of Arms


Clan Badges


Books & Gifts


Celtic Jewelry


Black Shirts


CD Music


Download

Design Gallery



Irish


Flags


Celtic


Tartans


Scottish


Claddagh


Surnames


Highlander


Celtic Radio
Research



History


Country


Families

Our catalog of products also includes three designer logos created specially by the Celtic Radio designers:

'Enjoy Life' Brand - Pigmented fun t-shirts with our 'Enjoy Life' logo. Stickers available too!

'StormCelt' Brand - Rugged wilderness outdoor wear for the true independent Celt.

'StormGale' Brand - Clothing products to keep you warm & dry when storm winds blow.

Our Heraldry Database has thousands of Family histories to search. Visit Now!

Dunn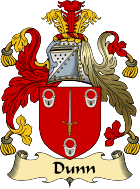 Coat of Arms

---
This interesting surname, found in England, Scotland and Ireland, has a number of possible origins. Firstly, it may be of Anglo-Saxon origin, from the Olde English pre 7th Century and Middle English "dunn", meaning "dull, brown, dark-coloured", and was a nickname for a man with dark hair or a swarthy complexion. It may also have originated from an unrecorded Middle English survival of an Olde Engl.....
Heraldry Database: Cook
Cook


Heraldry Database

Surname: Cook
Branch: Cook
Origins: British
More Info: England


Background: An English occupational name for a cook, a man who sold cooked meats, or the keeper of an eating house. Derived from Old English "coc" meaning cook.



Motto:
Tu ne cede malis, sed contra audentior ito, Yield not to misfortunes, but go the more boldly against them.
Arms:
Or, a chev. betw. two lions, passant, guardant, sa.
Crest:
A demi lion, passant, guardant, sa. ducally gorged or.
View the Heraldry Dictionary for help.

I
n medieval times Cook refers to a household servant rather than a craftsman, but a very important one. Later on we will take a look at a typical large household with servants of many kinds. We need not wonder that Cook is by far the most numerous of them, for every establishment of any size from a royal castle to the smallest manor house or inn, even a camp of outlaws in the forest, had a cook. There were many cooks in Duke William's army when he sailed from Normandy. We see them in the Bayeux tapestry busily roasting small bird over spits at very neat looking camp kitchens. His own special cooks were much favoured and given English manors to reward them for the tasty dishes he had enjoyed. No one need think that because methods of cooking at that time were somewhat crude beside our own, cooks were the less skilled. On the contrary they were probably more so. Human ingenuity is generally more inspired by difficult circumstances than by ease. The country produced an abundance of edible wild life, and the cooks used every possible herb and spice for sauces and flavouring.
Name Variations: Cooke, Cook, Coke, Cookson, Cookes.
References:
One or more of the following publications has been referenced for this article.
The General Armory; Sir Bernard Burke - 1842.

A Handbook of Mottoes; C.N. Elvin - 1860.

English Surnames; C.M. Matthews - 1966.

A Dictionary of English Surnames; P.H. Reaney - 1958.


| | |
| --- | --- |
| Discuss | Search |


Sign-up for a Founders account and receive personalized
family heraldry service and much more!


Want to know more?
Click the Heart!

Heraldry Database