Search



Home


Surname


First Name
Popular Products



Coat of Arms


Clan Badges


Books & Gifts


Celtic Jewelry


Black Shirts


CD Music


Download

Design Gallery



Irish


Flags


Celtic


Tartans


Scottish


Claddagh


Surnames


Highlander


Celtic Radio
Research



History


Country


Families

We custom design and produce all of our products with industrial press technologies located at our Boston Massachusetts facilities! This industrial process results in superior manufacturing that will outlast even store bought products. Our base products are supplied from a major clothing wholesaler, so we can keep our prices low.

Orders made today are generally filled within 1-4 weeks depending on our current supply schedule. All products have a 30 day money back guarantee for defects in workmanship. Customer satisfaction is our number one priority!

Our Heraldry Database has thousands of Family histories to search. Visit Now!

Spencer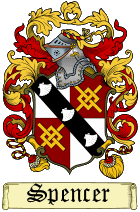 Coat of Arms

---
The Spencers have been farmers since pre-Tudor times, coming to prominence in Warwickshire in the fifteenth century. John Spencer became feoffee of Wormleighton in 1469, and a tenant at Althorp in 1486. His nephew another John, through trade in livestock and commodities, then bought both properties outright, was knighted, and so lay the bedrock for the family's fortune.

His descendants .....
Heraldry Database: Burton
Burton


Heraldry Database

Surname: Burton
Branch: Burton
Origins: British
More Info: England


Background: A town in Leicestershire, England. The name signifies either the town on the hill, or, as Bailey says, the Bur-town, from the abundance of burs growing thereabouts. There are several places by this name in England. The derivation is generally from Old English burh + t?n fort + enclosure, settlement. A famous bearer of the surname was Sir Richard Burton (1821-1890), an explorer of Africa and Asia.



Motto:
Lux vitú,The light of life.
Arms:
Per pale az. and purp. a cross, engr. or, betw. four roses ar.
Crest:
A gauntlet ar.
View the Heraldry Dictionary for help.

T
his famous name is of Anglo-Saxon origin, and is a locational surname deriving from any one of the numerous places called Burton in England, found mainly in the midland and northern counties. Most of the places are recorded in the Domesday Book of 1086 as, variously, "Burtone, Bortune" or "Bortone", and most share the same meaning and derivation, which is "the settlement by a fort", derived from the Olde English pre 7th Century "burg, burh", fort, often referring to a Roman or other pre-English fort, sometimes a fortified manor, with "tun", enclosure, settlement. Some of the places mean "settlement belonging to a fort", from the same Olde English elements, while Burton in Somerset means "the settlement on the River Bredy" or "Bride", and Burton in Sussex translates as "Budeca's settlement". The surname was first recorded in the mid 12th Century (see below), and one Gerard de Burton was recorded in the 1178 Warwickshire Pipe Rolls. The modern surname can be found as Burton, Borton and Bourton. Richard Burton (1821 - 1890), the explorer and orientalist, was a member of an ancient family, holding lands in Shropshire since the 15th Century. The first recorded spelling of the family name is shown to be that of Ioluard in Burhtun, which was dated circa 1150, in the "Yorkshire Charters", during the reign of King Stephen, known as "Count of Blois", 1135 - 1154. Surnames became necessary when governments introduced personal taxation. In England this was known as Poll Tax. Throughout the centuries, surnames in every country have continued to "develop" often leading to astonishing variants of the original spelling.
Name Variations: Burton, Borton, Bourton, Burtone, Bortune, Bortone.
References:
One or more of the following publications has been referenced for this article.
The General Armory; Sir Bernard Burke - 1842.

A Handbook of Mottoes; C.N. Elvin - 1860.

English Surnames; C.M. Matthews - 1966.

A Dictionary of English Surnames; P.H. Reaney - 1958.

Surnamedb: SurnameDB: http://www.surnamedb.com/surname.aspx?name=Burton



| | |
| --- | --- |
| Discuss | Search |


Sign-up for a Founders account and receive personalized
family heraldry service and much more!


Want to know more?
Click the Heart!

Heraldry Database