Search



Home


Surname


First Name
Popular Products



Coat of Arms


Clan Badges


Books & Gifts


Celtic Jewelry


Black Shirts


CD Music


Download

Design Gallery



Irish


Flags


Celtic


Tartans


Scottish


Claddagh


Surnames


Highlander


Celtic Radio
Research



History


Country


Families

We produce shirts for clans, organizations or websites! Expediated manufacturing and shipping is available for an additional charge. Our ever growing selections of designs includes family Coat of Arms, Scottish Clan Badges, Irish Claddagh Badges, Flags, Tartans, Surnames, Celtic, Irish and Scottish designs. Please
contact
us for a custom quote on bulk orders.

Our Heraldry Database has thousands of Family histories to search. Visit Now!

Guthrie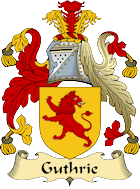 Coat of Arms

---

T

he lands known as Guthrie lie in the Angus, and the family who took this as their name is one of the oldest in that county. The name's origin is not known. There is a fable that the lands were named by an early Scots King after a fisherman 'gut three' fish to serve to his hungry monarch. A more likely origin lies in the Gaelic 'gaothairach', 'windy place'. King William the Lion gra.....
Scotland: Large Coffee Mug
| | |
| --- | --- |
| Large Coffee Mug | $28.95 |
Click artwork or button to choose your Scottish design:

Note that Previews are limited in resolution for website display.




---




| | |
| --- | --- |
| Place your order: | |
---
Shipping & Guarantee:

All orders are shipped via the United States postal service. Downloads are sent via Email within 24-48 hours. For business and wholesale orders, please
contact
us for a discounted price and special shipping instructions. Orders outside of the United States requires additional shipping fees. We offer a 30 day money back guarantee for defects in workmanship. Your satisfaction is our priority! Please tell your friends and family about the Celtic Radio Store!
---
Product Description:
Scotland (Alba in Gaelic) is a nation in northwest Europe and a constituent country of the United Kingdom. It occupies the northern third of the island of Great Britain and shares a land border to the south with England and is bounded by the North Sea on the east and the Atlantic Ocean on the west. Its capital city is Edinburgh.

The Kingdom of Scotland was united in 843, by King Kenneth I of Scotland, and is thus one of the oldest still-existing countries in the world. Scotland existed as an independent state until 1 May 1707, when the 1707 Act of Union merged Scotland with the Kingdom of England to create the Kingdom of Great Britain.

The flag of Scotland - the Saltire - is thought to be the oldest national flag still in use. The patron saint of Scotland is Saint Andrew, and Saint Andrew's Day is the 30 November. There are currently attempts to create an additional national holiday on this day.

Inventors, Scottish by birth or residence, have played prominent parts in such important inventions and discoveries as Watt's steam engine, Macleod with insulin, McAdam's macadam roads, Thomson and Dunlop with the pneumatic tyre, Bell's telephone, Baird's television, Robert Watson-Watt's radar, and James Chalmers' invention of the postage stamp. Alexander Fleming's discovery of penicillin and James Young Simpson's pioneering developments in anaesthesia were two of the most important breakthroughs in modern medicine. John Napier contributed Napier's bones and natural logarithms, Adam Smith helped to create modern economics, and the popular sport of golf is usually regarded as a Scottish invention.
---




About our Premium Large Mugs:

Our premium hard coated mugs hold 15 ounces of hot or cold liquid. Whether you're a coffee addict or a hot chocolate lover, our customized mug is an item that makes every kitchen, home or office complete. We use vivid sublimation inks to produce no-fade, safe and washable mugs. Beautifully finished with a hard ceramic gloss coating that holds up to the most enthusiastic coffee drinker! Our premium large mug handle fits snuggly into your hand for trouble free use and enjoyment. Microwave and dishwasher safe!



Product Example: