Search



Home


Surname


First Name
Popular Products



Coat of Arms


Clan Badges


Books & Gifts


Celtic Jewelry


Black Shirts


CD Music


Download

Design Gallery



Irish


Flags


Celtic


Tartans


Scottish


Claddagh


Surnames


Highlander


Celtic Radio
Research



History


Country


Families

We produce shirts for clans, organizations or websites! Expediated manufacturing and shipping is available for an additional charge. Our ever growing selections of designs includes family Coat of Arms, Scottish Clan Badges, Irish Claddagh Badges, Flags, Tartans, Surnames, Celtic, Irish and Scottish designs. Please
contact
us for a custom quote on bulk orders.

Our Heraldry Database has thousands of Family histories to search. Visit Now!

MacMahon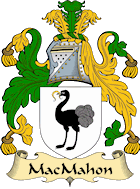 Coat of Arms

---

M

acMahon is one of the best known and most distinguished names in Ireland. In Irish Mac Mathghamha, or in ultra-modern spelling MacMahuna, it is said to be derived from the Irish word for a bear. It is borne by two quite distinct septs. One of these belongs to Co. Clare, in which county is now the most numerous name. These descend from Mahon, son of Murtagh Mor O'Brien, King of Ireland (D. 1119), a.....