Search



Home


Surname


First Name
Popular Products



Coat of Arms


Clan Badges


Books & Gifts


Celtic Jewelry


Black Shirts


CD Music


Download

Design Gallery



Irish


Flags


Celtic


Tartans


Scottish


Claddagh


Surnames


Highlander


Celtic Radio
Research



History


Country


Families

Our catalog of products also includes three designer logos created specially by the Celtic Radio designers:

'Enjoy Life' Brand - Pigmented fun t-shirts with our 'Enjoy Life' logo. Stickers available too!

'StormCelt' Brand - Rugged wilderness outdoor wear for the true independent Celt.

'StormGale' Brand - Clothing products to keep you warm & dry when storm winds blow.

Our Heraldry Database has thousands of Family histories to search. Visit Now!

Ross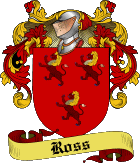 Coat of Arms

---

I

n the ancient Celtic tongue, a ros was a promontory, such as the fertile land between the Cromarty and Dornoch Firths. Those who bore the name rose to be Earls of Ross, and it is believed that the first Earl, Malcolm, who lived in the early twelfth century, allied his family to O'Beolan of the great Irish royal house of Tara, by the marriage of his daughter. The clan was sometimes also referred to.....