Search



Home


Surname


First Name
Popular Products



Coat of Arms


Clan Badges


Books & Gifts


Celtic Jewelry


Black Shirts


CD Music


Download

Design Gallery



Irish


Flags


Celtic


Tartans


Scottish


Claddagh


Surnames


Highlander


Celtic Radio
Research



History


Country


Families

Our catalog of products also includes three designer logos created specially by the Celtic Radio designers:

'Enjoy Life' Brand - Pigmented fun t-shirts with our 'Enjoy Life' logo. Stickers available too!

'StormCelt' Brand - Rugged wilderness outdoor wear for the true independent Celt.

'StormGale' Brand - Clothing products to keep you warm & dry when storm winds blow.

Our Heraldry Database has thousands of Family histories to search. Visit Now!

Hunter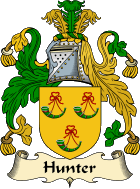 Coat of Arms

---

A

t Hunterston in Ayrshire is carefully preserved on a frail parchment a charter signed by Robert II on 2 May 1374 confirming the grant of land to William Hunter "for his faithful service rendered and to be rendered to us in return for a silver penny payable to the Sovereign at Hunterston on the Feast of Pentecost." To this day the Laird of Hunterston keeps silver pennies, minted in the reigns of Ro.....









Our downloadable products are a great resource when researching your family Coat of Arms and Clan Badge artwork. We have over 40,000 graphics of individual family heraldry that are available for download. Use these graphics for your special projects, research papers or simply to display in your home or office. Our surname history product comes with a professionally rendered PDF file that can be printed or saved to your computer and includes an extra large version of your selected Coat of Arms or Clan Badge. Custom Coat of Arms are available which includes our research service to recreate your hard to find Coat of Arms or Clan Badge.



---




Coat of Arms Download


$5.00





Clan Badge Download


$5.00





Custom Shield Download


$5.00





Celtic and World Flags Download


$5.00





Tartan Download


$5.00





Surname History PDF


$19.95