Search



Home


Surname


First Name
Popular Products



Coat of Arms


Clan Badges


Books & Gifts


Celtic Jewelry


Black Shirts


CD Music


Download

Design Gallery



Irish


Flags


Celtic


Tartans


Scottish


Claddagh


Surnames


Highlander


Celtic Radio
Research



History


Country


Families

Welcome to our Celtic Radio Store - part of Coat of Arms Online Sales! You can help support all of the Celtic Radio broadcast channels and our website by purchasing one of our quality made customized products. We combine our award winning designer graphics with brand name apparels. Our products make excellent gifts for all occasions and especially for the person that has it all!
We produce shirts for clans, organizations or websites! Expediated manufacturing and shipping is available for an additional charge. Please
contact
us for a custom quote.

Our Heraldry Database has thousands of Family histories to search. Visit Now!

Dunn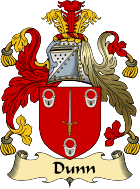 Coat of Arms

---

T

his interesting surname, found in England, Scotland and Ireland, has a number of possible origins. Firstly, it may be of Anglo-Saxon origin, from the Olde English pre 7th Century and Middle English "dunn", meaning "dull, brown, dark-coloured", and was a nickname for a man with dark hair or a swarthy complexion. It may also have originated from an unrecorded Middle English survival of an Olde Engli.....









Our downloadable products are a great resource when researching your family Coat of Arms and Clan Badge artwork. We have over 40,000 graphics of individual family heraldry that are available for download. Use these graphics for your special projects, research papers or simply to display in your home or office. Our surname history product comes with a professionally rendered PDF file that can be printed or saved to your computer and includes an extra large version of your selected Coat of Arms or Clan Badge. Custom Coat of Arms are available which includes our research service to recreate your hard to find Coat of Arms or Clan Badge.



---




Coat of Arms Download


$5.00





Clan Badge Download


$5.00





Custom Shield Download


$5.00





Celtic and World Flags Download


$5.00





Tartan Download


$5.00





Surname History PDF


$19.95