Search



Home


Surname


First Name
Popular Products



Coat of Arms


Clan Badges


Books & Gifts


Celtic Jewelry


Black Shirts


CD Music


Download

Design Gallery



Irish


Flags


Celtic


Tartans


Scottish


Claddagh


Surnames


Highlander


Celtic Radio
Research



History


Country


Families

All of our products can be order in bulk for family reunions and get-togethers. Depending on the number of items ordered, we can offer bulk orders at reduced prices for incredible savings from individual items. We also offer embroidered Clan Badge and Coat of arms patches in bulk orders for all of your family and clan festivals.
Don't see your Clan Badge or Family Coat of Arms or do you have a special customized order? Please
contact
us with your special order details and we will be happy to setup a free quote.

Our Heraldry Database has thousands of Family histories to search. Visit Now!

Wren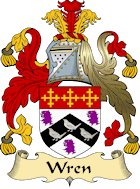 Coat of Arms

---

T

he root of the surname Wren is the old English wrenna for the bird wren. The name probably strted out as a nickname for someone of wren-like characteristics, a small, busy and quick-moving person. The wren is also seen as wily, as the tale of the wren boys of Cork suggests. There are two spellings of the name, Wren and Wrenn. Wrenn was probably more common until the 17th century. Although Wren.....