Search



Home


Surname


First Name
Popular Products



Coat of Arms


Clan Badges


Books & Gifts


Celtic Jewelry


Black Shirts


CD Music


Download

Design Gallery



Irish


Flags


Celtic


Tartans


Scottish


Claddagh


Surnames


Highlander


Celtic Radio
Research



History


Country


Families

Our store includes not only customized products, but select clothing items from brand name house hold names like Champion, Izod, WeatherProof, Adidas and more. For those in rural areas or that are home bound, we offer a separate clothing store containing thousands of items that can be purchased quickly with expedited service and shipping (hard to find larger sizes are available). We offer a wide selection of popular Celtic and Medieval books, Jewelry, Gifts, Accessories (such as caps and designer bags), Mouse Pads, Coat of Arms Plaques, Surname History PDF files, Bumper Stickers and Coat of Arms Downloads.

Our Heraldry Database has thousands of Family histories to search. Visit Now!

O'Henry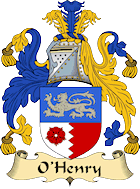 Coat of Arms

---

There are some five thousand persons in Ireland to-day bearing the surname Henry - without O or Mac. The majority of these are Ulstermen formerly called O'Henry, the Irish form being H hInneirghe. the head of this sept was chief of Cullentra in Co. Tyrone whose territory at one time extended to the valley of Glenconkeine in Co. Derry.

Fitzhenry, sometimes abbreviated to Henry, is the na.....